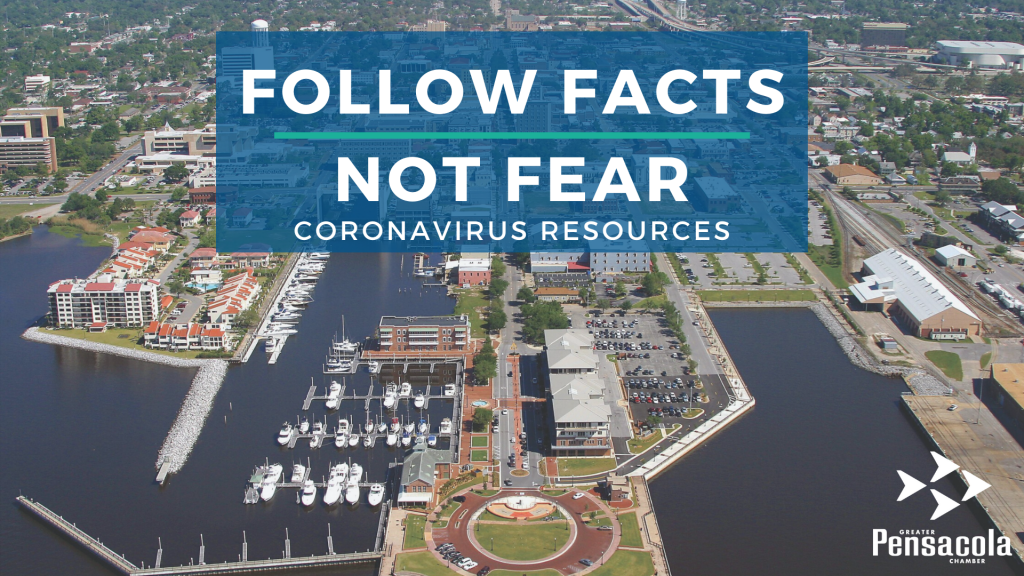 Coronavirus Information and Resources for Businesses
The situation surrounding the Coronavirus is rapidly evolving and we at the Greater Pensacola Chamber of Commerce want to make sure you are taking proper steps to protect your business and family.  At this time, per the guidance of the Centers for Disease Control, we are postponing all Chamber events indefinitely. We will evaluate future events in the coming weeks.
We want to ask for your patience during this challenging time and again ask for you to stay informed by following official government sources for the latest announcements and implore you to follow the guidance provided by government officials. You can go to our dedicated Coronavirus Resources pages below for links to official information resources. We will continue to update this page with resources for businesses and families as this situation progresses.  We will be sending a business survey later this week to determine the needs of our local business community.
For the time being, we will operate as a Virtual Chamber of Commerce.  Our office will be closed to visitors, but Chamber staff is still working and will continue to provide information for businesses and the public through our social media sites and via email.
Greater Pensacola Chamber President Todd Thomson discusses the economic impacts of COVID-19 on In Studio with Jeff Weeks
Greater Pensacola Chamber President Todd Thomson discusses the local employment impacts of COVID-19 with the Pensacola City Council
Hurricane Sally Resources Governor Ron DeSantis Activates Florida Small Business Emergency Bridge Loan Program for Small Businesses Damaged by Hurricane Sally Governor Ron DeSantis has activated the Florida Small Business Emergency Bridge Loan program to support small businesses impacted by Hurricane Sally. The Florida Department of Economic Opportunity (DEO) administers the Emergency Bridge Loan program…