USS Tripoli (LHA 7) is the second ship of the USS America Class.  She is the third ship to bear the name.  It recognizes the significance of the Battle of Derna in both U.S. and U.S. Marine Corps history.  First Lt Presley O'Bannon, who led the Marines into the first battle fought by U.S. troops on foreign soil, was presented a scimitar with a Mameluke hilt by Hamet Karamanli in recognition of his bravery.  The design of this sword became the model for the sword still worn today by U.S. Marine Corps officers.
THE CHRISTENING OF THE TRIPOLI
Ingalls Shipbuilding christens the large deck amphibious assault ship Tripoli (LHA 7) on Saturday, September 16, 2017. Ship's Sponsor is Mrs. Lynne Mabus, wife of The Honorable Ray Mabus, 75th Secretary of the Navy and former Governor of the State of Mississippi.
THE LAUNCH OF THE TRIPOLI
Ingalls Shipbuilding launched the U.S. Navy amphibious assault ship, Tripoli (LHA 7), 13 weeks ahead of schedule on Monday. Tripoli is the second ship in the USS America (LHA 6) class of large-deck amphibious ships built by Ingalls Shipbuilding and is scheduled to be christened in September 2017.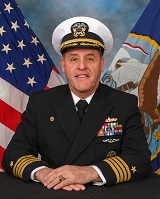 THE SHIP'S LEADERSHIP
Captain Kevin P. Meyers
Commanding Officer
Native of Baltimore, Maryland, Captain Meyers received his commission through the Enlisted Commissioning Program and graduated from the University of South Carolina in 1994. Prior to receiving his commission, he served six years as an Interior Communications Electrician with sea tours aboard USS PHILADELPHIA (SSN 690) and USS MARYLAND (SSBN 738).
His Division Officer tours included First Lieutenant in USS STETHEM (DDG 63) and Auxiliaries Officer in USS PELELIU (LHA 5). Captain Meyers completed Department Head tours as Weapons Control Officer and Combat Systems Officer aboard USS HIGGINS (DDG 76) and USS BENFOLD (DDG 65), where he participated in the first DDG Sea Swap. During Operation IRAQI FREEDOM, HIGGINS launched 31 Tomahawk missiles and participated in the clearance of the Kahr Abd Allah waterway. In February 2006, he reported to USS HARPERS FERRY (LSD 49) as Executive Officer.
Tours ashore included Expeditionary Warfare Training Group Pacific, the Naval War College where he completed his Joint Professional Military Education Phases I and II, the Joint Chiefs of Staff J-5 (Iraq Division), the Force Readiness Officer for Commander Naval Surface Forces Pacific, and most recently the Executive Officer for Surface Warfare Officers School.
Captain Meyers commanded USS GREEN BAY (LPD 20) for her maiden deployment and was the commissioning CO of USS SAN DIEGO (LPD 22).
His awards include the Legion of Merit, the Defense Meritorious Service Medal, Navy Meritorious Service Medal, Navy Commendation Medal, Navy Achievement Medal, and various unit and service awards.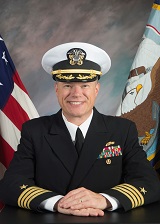 THE SHIP'S LEADERSHIP
Captain Christopher Wells
Executive Officer
Captain Wells is from Colquitt, Georgia.  He received his commission from the United States Naval Academy in May 1996.  His initial sea duty assignment was with MCM ROTATIONAL CREW ECHO aboard USS CHIEF (MCM 14) and USS ARDENT (MCM 12) as DCA, First Lieutenant, Electrical Officer, and Auxiliaries Officer.  Subsequent assignments at sea include USS LAKE ERIE (CG 70) as Fire Control and Force Protection Officer, USS TARAWA (LHA 1) as Combat Systems and Force Protection Officer, DESTROYER SQUADRON FIFTEEN as Weapons and Force Protection Officer, and SEVENTH FLEET staff as Fleet Training and TLAM Officer.
Captain Wells served as the Executive Officer of USS WHIDBEY ISLAND (LSD 41) from 2012-2013 before fleeting-up to Commanding Officer from 2013-2014.  Following command of USS WHIDBEY ISLAND, Captain Wells served as the N3 on the EXPEDITIONARY STRIKE GROUP TWO staff from 2015-2016.  His most recent at sea assignment was commanding USS PONCE (AFSB(1) 15) from 2016-2017 while forward deployed to FIFTH FLEET.
Ashore, Captain Wells attended the Naval Postgraduate School where he received an M.S. in Systems Engineering and Analysis.  Captain Wells also served with the JOINT IED DEFEAT ORGANIZATION as an Operations Research/Systems Analyst and Initiative Evaluations Branch Chief responsible for assessing Counter-IED equipment, tactics, techniques, and procedures.   Most recently, he served as the Director of Inspections (N3) at the Board of Inspection and Survey. Captain Wells has various personal and unit awards including two Legion of Merits, the Defense Meritorious Service Medal, three Meritorious Service Medals, four Navy Commendation Medals and two Navy and Marine Corps Achievement Medals.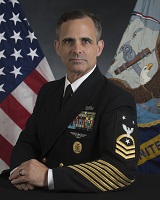 THE SHIP'S LEADERSHIP
CMDCM Matthew P. Logsdon
Prospective Command Master Chief
Command Master Chief Matthew Logsdon was born in Long Beach, California and raised in Walled Lake, Michigan.  He entered active naval service in April 1991, reporting to Recruit Training Command at Great Lakes, Illinois. Upon completion of recruit training, he attended Gas Turbine Class "A" School and was designated a Gas Turbine Systems Technician (Mechanical).
Master Chief Logsdon served at Assault Craft Unit FIVE, Camp Pendleton, California for 21 years and was a Subject Matter Expert in the Landing Craft Air Cushion (LCAC) program. Rapidly qualifying to LCAC Craftmaster, Detachment LCPO, Operations Department LCPO, and Training Officer, he completed six Western Pacific deployments throughout his tenure to include Operation RESTORE HOPE (Somalia), Operation UNIFIED ASSISTANCE (Indonesia), and Operation IRAQI FREEDOM.
A graduate of the United States Navy Senior Enlisted Academy (Class 137) as a Chief Petty Officer and an alumnus of the Command Master Chief Capstone course, Master Chief Logsdon reported to USS PREBLE (DDG 88) in February 2013 as the Command Master Chief. Completing a successful homeport change from San Diego to Pearl Harbor and two Western Pacific deployments assigned to Carrier Strike Group ELEVEN, FIVE, and Expeditionary Strike Group SEVEN, his exceptional crew earned the Spokane Trophy for operational and combat excellence in the Pacific Fleet.
In July 2015, Master Chief Logsdon joined the Commander, Navy Installations Command enterprise as Command Master Chief, Naval Base Coronado, supporting every Navy community at eight installations, with 143 tenant commands, and 37,000 Sailors and civilians. In August 2017, he was selected to serve as the Command Master Chief for Commander, Navy Region Europe, Africa, Central, where he supported 9 bases and 25 platforms for 299 tenant commands comprised of over 36,000 Sailors and civilians located on three continents.
Master Chief Logsdon is a graduate of the NDU Keystone course, NPS Naval Senior Leadership Symposium and MCPON Executive Leadership Symposium. He also earned an Associate of Arts in Applied Marine Engineering from Coastline Community College, a Bachelor of Science in Environmental Studies, and a Master of Science degree in Global Environmental Management from American Military University.  His personal decorations include the Meritorious Service Medal (two awards), the Navy and Marine Corps Commendation Medal (four awards), the Navy and Marine Corps Achievement Medal (seven awards), the Combat Action Ribbon, and various unit and campaign.
JOIN US AT THE COMMISSIONING