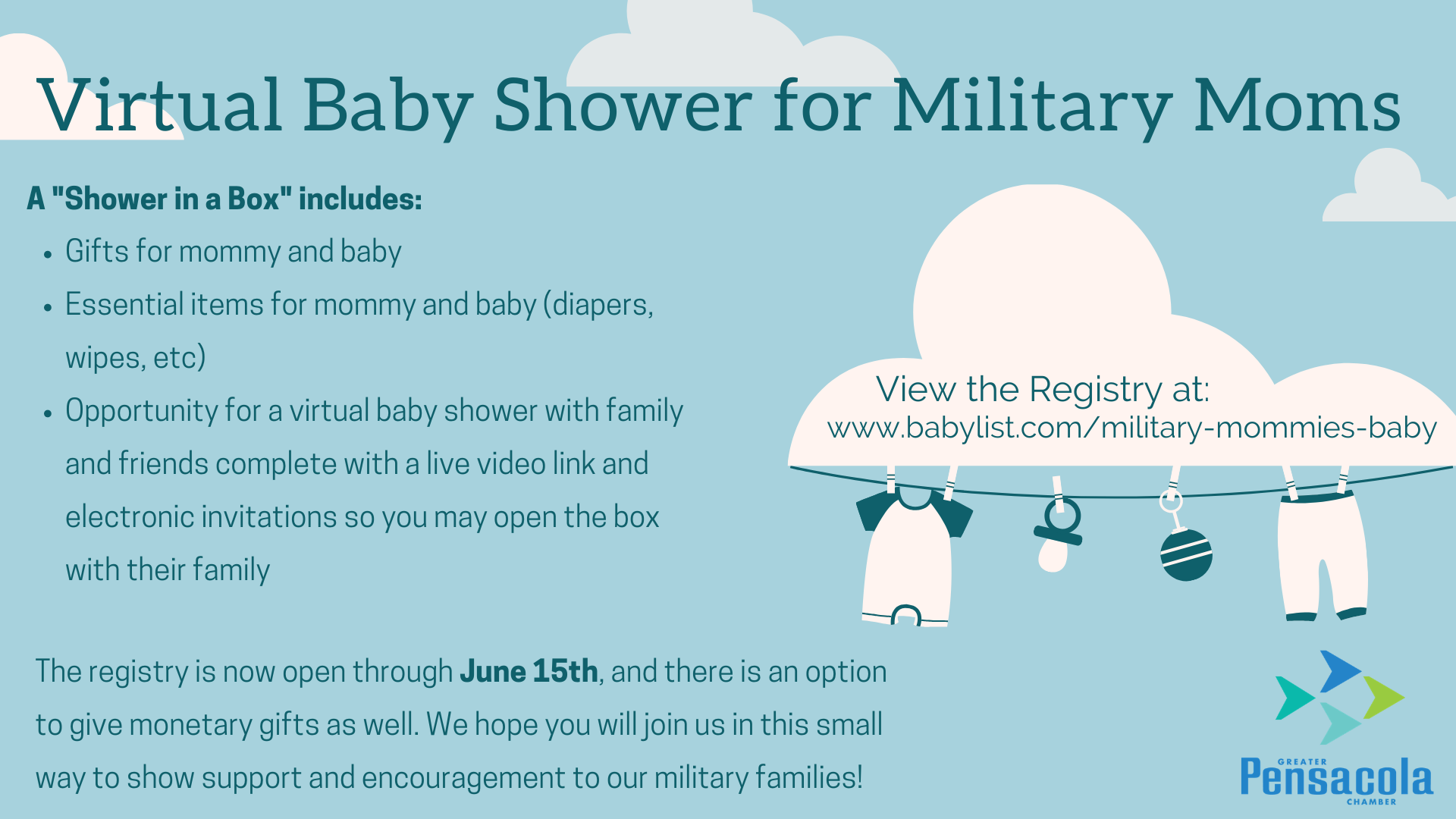 Virtual Baby Shower for Military Moms
The Greater Pensacola Chamber of Commerce Department of Military Affairs and Department of External Affairs are excited to be hosting a Virtual Baby Shower/"Shower in a Box" for our military moms in the Escambia and Santa Rosa County area in partnership with the leaders of NAS Pensacola Spouses Network.
Due to the current events of COVID-19 many of these mommies are not able to fly back to their home states for their previously scheduled baby showers with family and friends. We also realize it is not ideal to host an actual event and put these mothers at risk. So, to offer an almost complete experience we are partnering with NAS Pensacola Spouses, a Facebook network, to put on a Virtual Baby Shower and a Shower in a Box.
A "Shower in a Box" includes:
- Gifts for mommy and baby
- Essential items for mommy and baby (diapers, wipes, etc)
- Opportunity for a virtual baby shower with family and friends complete with a live video link and electronic invitations so you may open the box with their family
The box will be delivered to each mother for their enjoyment by designated leaders of NAS Pensacola Spouses.
These boxes are for active duty mommies-to-be or active duty spouse mommies-to-be!
"If you are an active duty or active duty spouse mom-to-be in the Pensacola area who has a due date in the months of March to June you are eligible to receive a gift package. If your due date is after June you are not excluded we just want to care for the moms who are currently affected. These packages are being assembled by fellow military spouses who felt that during a time like this these mothers needed some extra love! We realize the importance of our military/community relations and wanted to give the Pensacola community the opportunity to participate!" - – Michelle Beare.
The registry is now open through June 15th, and there is an option to give monetary gifts as well. We hope you will join us in this small way to show support and encouragement to our military families!